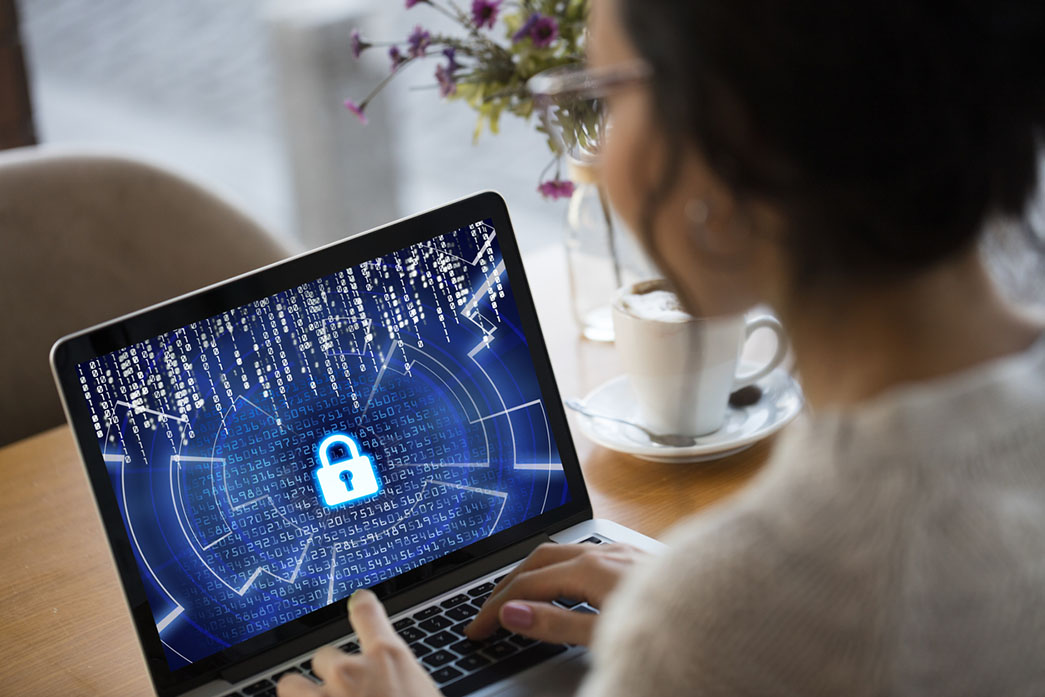 Cybersecurity has rightfully been an area of concern for many business owners, especially regarding network safety and work from home security. According to a study by IBM, human error is the leading cause of 95 percent of cybersecurity breaches. And with Kate Lister, president of Global Workplace Analytics, estimating that 70 percent of our workforce will shift to telework by 2025, this leads to even greater concern for employers following suit.
So, what can companies do to protect their business against cyberattacks, even with a remote workforce? In this blog, we'll cover just how you can move forward to secure your company and ensure your work from home security is up to par to battle against an array of cyberthreats.
The Concerns Surrounding Remote Data Security
Remote workforces create a lack of visibility, control and awareness for employers regarding the daily digital practice of their workforce. This leaves not only the employees open to potentially malicious activity, but the employer and their clients as well. And hackers are fully aware of this! More and more, we see businesses falling prey to a number of business privacy and data breaches, including:
Malware
Phishing Scams
Password Attacks
Session Hijacking
Business Email Compromise (BEC)
Ransomware
And More
Every cyberthreat has the potential to cause long-term damage to your reputation and profitability. So, with risk looming around every digital corner, what can businesses do to halt hackers in their tracks?
#1 – Educate Your Team
The adage, knowledge is power, is a cliché for a reason. Educating your remote workforce on what role they play in protecting the company as a whole is vital to ensure costly mistakes are avoided. Train your team regarding what recent cyberthreats are floating around and clearly define protocols they should implement should data breaches occur.
An additional measure you can take is to provide employees with password policies that require strong, unique passwords and mandatory updates. This ensures that business privacy is never sacrificed over a simple mistake.
Another valuable policy to implement and share with your employees is a data loss prevention (DLP) plan. DLP strategies aid employees in spotting potential risks, active threats and ensures vital information is consistently backed up should the need to retrieve said information ever arise. These easy steps could save your business's reputation, companywide data, client information and profitability down the road.
#2 – Equip Your Team
Even though providing your team with equipment may seem costly, breaches into your company's data can be catastrophic. When introducing personal devices to your network, you create easier access points for hackers to retrieve your data. One fix to this is to implement virtual private networks (VPN) and network security measures. These act as gateways to extend private networks across public ones and secure access from any device to your network. As a bonus, you can also better isolate data breaches from your private network.
Having cloud security is another way to ensure data being transferred between remote employees stays protected against cyberthreats. In general, a great rule of thumb to improve work from home security is to implement tools and software that can be regularly updated internally across any number of remote devices. Cloud-based software provides access to those who need it, and security against those who don't.
#3 – Expand Your Team
Because cybersecurity technology is always evolving to stay ahead of sophisticated cyberthreats, technology updates and clever hackers, it's best practice to hire an individual or team of IT experts to assess internal and external threats, conduct and evaluate cybersecurity reports, update security hardware and software and ensure downtime remains minimal. However, IT support and cybersecurity roles are notoriously difficult to fill and oftentimes, the hiring process can drag out while you hunt for qualified candidates.
By hiring an external IT support team to manage your services, you'll get all the benefits of a full-stack team of IT experts at a fraction of the cost of an internal hire. We provide benefits like ongoing support, IT consulting for in-office and work from home security tools and data loss prevention techniques. To learn more about how our expertise can benefit your business, contact us today!
Microsoft® support might not be something you think about every day. The list of Microsoft products you rely on is likely longer than you realize, but they're just a part of your work and not something you – hopefully – spend much time worrying about.
In fact, it has probably been a while since you purchased those Office and Windows solutions, and you might not have realized that the established support lifecycle for Microsoft software has been steadily making the switch to an as-a-service model.
And now you're hearing that 2020 is bringing with it an End of Support for a long list of Microsoft products and solutions. Maybe you've even been ignoring some consistent nagging from Microsoft about it. As much as you might like to, these changes aren't something you – or your business – can afford to ignore. Let's take a look at what 2020's End of Support will mean for anyone in your company who is using a Microsoft solution on the list.
No More Support: You've probably gathered this from "End of Support," but what this means for you is that calling the Microsoft help desk after the 2020 cutoff date won't yield the results you might hope. You'll be told these solutions are no longer supported and sent on your way.
Security Risks: Considering just keeping those outdated solutions running? Be aware that it's more than just the help desk you'll be losing out on. As Microsoft support ends, so will the regular patching, upgrades and compliance assistance you get when Microsoft rolls out fixes.
Buggy User Experiences: Offices that continue running these outdated solutions can expect to see ongoing issues with the user experience as patches and updates are no longer applied, which will lead to a seriously frustrating workday for your team.
What do you need to do to avoid the headaches? To state a complex problem simply, make sure your office is ready to update to newer versions of these Microsoft solutions prior to their End-of-Support date, and have a dedicated resource who can track current and future lifecycle dates to make sure you aren't caught off-guard.
Running a business means you're conservative about upgrades, and the old model of extended lifecycles has let you maintain that conservative approach. But change is coming, and your business shouldn't have to suffer for it.
How We Can Help
Sound daunting? It can be, but the Microsoft 2020 End of Support doesn't have to mean a crisis for your business. Whether you need to update your software, keep your operating systems on schedule or make sure your patching and security are proactively handled, we can help. Contact us today to talk through what we can do to support your business.